George Osborne said that it would be the budget of the working people; a budget that puts security first; a budget that sets out a plan for Britain to move from a low wage, high tax country to a high wage, low tax one. Yet beneath this generic rhetoric lies a devastating blow for almost everyone who doesn't enjoy the lavish lifestyle of the wealthy, including the working people Osborne and the Conservative Party claim to represent.
For those who didn't watch the budget, or for those who don't understand the policies being implemented by the government, here is a brief run through of a number of policies announced today.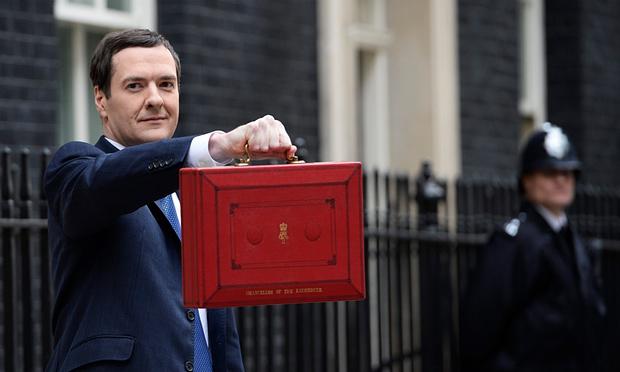 Inheritance tax threshold raised to £1 million:
Here is a key example of why this budget is by no means a budget for working people. This policy will allow people to pass on estates worth up to £1 million free of inheritance tax, clearly a policy that is only beneficial to the richest few in our society. There are a number of severe issues with UK housing that need more direct attention, such as a lack of social housing or in fact, a lack of adequate housing altogether. Surely these are the policies that deserve a place in the budget; there are over 1 million homes in the UK that are classified as unfit to live in, whereas there are less than 500,000 homes that are valued at over £1 million.
University maintenance grants replaced by loans:
Arguably the group that will be hit the hardest by today's budget is young people, students in particular. The Chancellor announced today that maintenance grants provided by Student Finance would be replaced by a loan, further adding to the debt that many people will never pay back. This is no less than a direct attack on the poorest students in the country, as the grant can only currently be claimed by those who come from a household earning less than £42,000 a year. As someone who is fortunate enough to obtain a grant, I know that it plays an essential role in helping students through university, as more often than not those who claim it have no additional support from parents or guardians. Osborne claims that the cuts won't deter the most disadvantaged from going to university; in fact there has been a rise in the number of people seeking further education (although the figure stills wavers between 49-50%). This may be true, but with narrowing job prospects and a growing number of people holding degrees to compete with, many see university as the next crucial step to hopefully furthering their future prospects.
No automatic housing benefit for those aged 18-21:
Cutting the housing benefit for young people is said to save around £40 million from the welfare budget, but at what cost to those that it will directly impinge upon? The Chancellor stated that young people should 'earn or learn' but with the scrapping of maintenance grants combined with cuts to housing benefit, young people are seemingly stuck in a catch-22 situation. Going to university means that students will leave education with tens of thousands of pounds of debt, yet if they choose to leave education at 18 and find a job, it's a likely situation that they'll be living in their family home way into their 30's.
Introduction of a higher living wage:
Any increase to the living wage to a welcome decision, but this announcement doesn't go far enough. What the Chancellor has done here is simply increase the minimum wage and masquerade it as a living wage. The Living Wage Foundation calculated what the true living wage is, and found that it is £7.85 an hour outside of London, and £9.15 an hour in London. In the Commons earlier today, a cheer erupted when Osborne announced that from April next year, it will be compulsory for employers to pay £7.20 an hour, rising to £9 by 2020. Clearly the Chancellor forgot to do his research before promoting this as the most pinnacle moment of the budget announcement. Furthermore, by the time 2020 comes around, it has been suggested that the true living wage will have risen even further, therefore making Osborne's plans wholly inadequate.
Of course, these are by no means the only announcements that the Chancellor made today; he also announced a freeze in working-age benefits and cuts to tax credits among other things, but I can't claim to be an expert in those areas and I would be out of depth writing about them. However, what is clear from this budget is that the Conservative government are going after those who wouldn't necessarily have voted for the party back in May; the poor, the young, and the disabled – these are the people who will be affected most by the budget. Meanwhile at the other end of the scale, beneficial policies for the rich are being announced, meaning that ultimately the wealthy will only get wealthier.
A number of news websites are currently posting live updates on the budget; these are beneficial if you want to find out more about the points I've discussed, or learn about the ones I left out: The Guardian, BBC, The Independent.